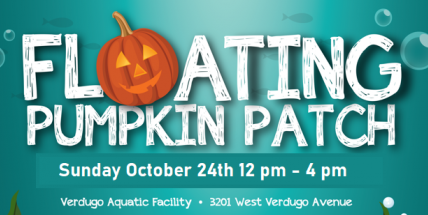 FLOATING PUMPKIN PATCH
Sunday, October 24th 12:00 p.m. - 4:00 p.m.
** NEW SESSIONS ADDED: 9:00 a.m. - 4:00 p.m. (Registration for the added sessions opens 10/7 at 5:30 p.m. for Burbank residents)
Free Event!

Three 1 hour activity pool sessions for recreational swimming

Main pool and Halloween games & activities will be available all throughout the event

Pumpkin Decorating Contest

Costume Contest from 1:30 p.m. - 2:30 p.m.
Registration opens Friday October 1st 5:30 p.m. for all Burbank Residents.
Open registration begins Friday October 8th 5:30 p.m.
www.burbankparks.com
Please note: all participants who will be in attendance must be registered for each session.
Limit one session per person

MORE INFORMATION AT: www.burbankca.gov/halloween
Register Here
Event Snapshot
Location
Verdugo Aquatic Facility - 3201 W. Verdugo Avenue, Burbank, CA