null
Press Release: Downtown Burbank Parking Permits
Burbank, CA (May 23, 2023) – Effective June 1, 2023, the City of Burbank (City) will begin expanded enforcement of its parking regulations, including the regulations for Downtown Burbank. The majority of public parking in Downtown Burbank is restricted to two-to-four-hour time limits between Monday-Friday from 8AM-6PM. Street parking on San Fernando Boulevard and nearby streets are limited to ninety minutes from 9AM-9PM daily.
Monthly and single-day parking permits to exceed time limits are available for certain Downtown parking lots and structures where spaces are signed, "Except by Permit." Permits are valid for the month or date shown on the permit and may not be used for overnight parking (No Parking 3AM-5AM). Parking is on a first-come, first-served basis and does not guarantee the permit holder a parking space.
Monthly parking permits are currently $52.00/permit. Single-day permits are currently $6.00/permit.
Permits must be purchased in the Community Services Building located at 150 N. Third St., Burbank, CA, 91502. Office hours are Monday-Friday from 8AM-12PM and 1PM-3PM. For questions or additional information, please call Transportation at (818) 238-5290, or email Parking@burbankca.gov.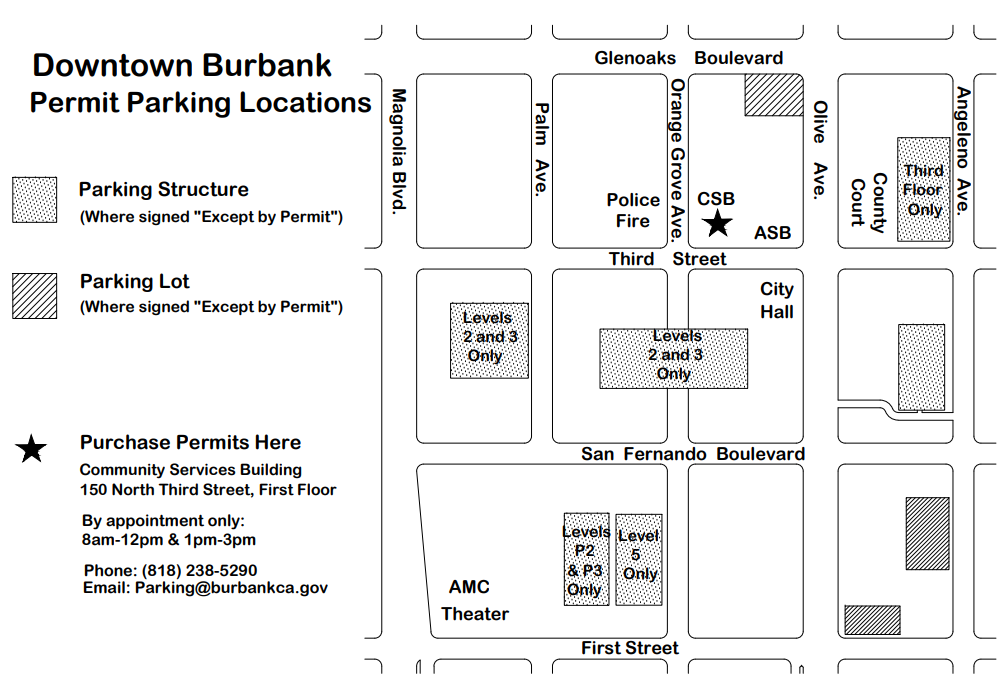 ###
Instagram: @BurbankCA, Facebook: @BurbankCA, Twitter: @BurbankCA,
Website: www.burbankca.gov
About Burbank
Burbank is a diverse community of 105,000 residents. Billed as the "Media Capital of the World", numerous media and entertainment companies are headquartered in Burbank including Warner Bros. Entertainment, The Walt Disney Company, Nickelodeon Animation Studios, Netflix Animation, and Cartoon Network Studios. With the Hollywood Burbank Airport located within the City, Burbank is a go-to destination for business and tourism. Additionally, Burbank is known for its walkable and safe neighborhoods, well-run school district, and "small town" charm. 
Published on: May 23, 2023
03:11 PM