AC HOTEL
A 6-story hotel with a restaurant.

ADDRESS:
550 N. Third Street
Burbank, CA 91502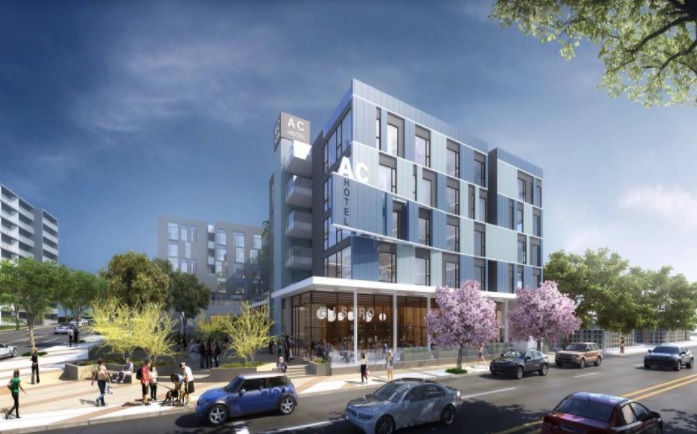 On October 23, 2017, the Planning Board approved an application for Development Review and a Conditional Use Permit for a 6-story hotel with a restaurant. The project site is located at 550 North Third Street, and totals approximately 38,803 square-feet (0.89 acre) in Downtown Burbank. The project site is located in the Burbank Center Commercial Limited Business (BCC-2) zoning district.
The project includes (see Project Plans):
A 6-story hotel (69 ft. high) consisting of a 196 rooms with approximately 3,800 square-feet of restaurant space on the ground floor, and three levels of subterranean parking with 196 spaces.
Vehicle access would be provided through a driveway on Cypress Avenue, which would lead to the drop-off area and the subterranean parking levels.
Hotel amenities include a fitness center, lounge/library area, pool/spa deck, an outdoor courtyard, and a rooftop viewing deck on the 6th floor.
Past Public Meetings
October 23, 2017 at 6:00 p.m. - Planning Board meeting - The Planning Board made a motion on a Development Review (DR) and a Conditional Use Permit (CUP) application for this Project. See the staff report.
September 7, 2017 at 6:00 p.m - Community Meeting - A community meeting was held to provide information about the Project.
The City of Burbank, as lead agency, prepared an Initial Study/Negative Declaration for the project in accordance with the California Environmental Quality Act. A copy of the document is available at the Planning Division office at 150 N. Third Street in Burbank.