Interstate-5/Empire Avenue Interchange
Interstate-5 & Empire Project
Questions about the Interstate 5 / Empire Interchange Project? Contact Caltrans by Phone or Online:
Call or write Caltrans representatives directly with questions or concerns about the project.
Latest Burbank Blvd. Bridge/I-5 Project Updates
To get the latest Burbank Blvd. Bridge/I-5 project updates, please visit Caltrans' project website at www.my5la.com. Direct links to project updates are below:
Latest Closures and Construction Activities
Learn More About the Empire Interchange Project
For more information on the Empire Interchange Project, please contact David Kriske, Assistant Director for Transportation with the Community Development Department.
The Empire Interchange / Interstate 5 Improvement Project is a series of enhancements to the Interstate 5 Freeway, including a new interchange at Empire Avenue. This project, lead by Caltrans and funded primarily by Los Angeles County transportation sales tax funds provided by Metro, will relieve congestion along Interstate 5 while providing an important new access to the Golden State area of Burbank, including the Empire Center and Bob Hope Airport.
Project Highlights
Full freeway interchange at Empire Avenue
New freeway and railroad crossing allowing access to Empire Center
Freeway widening including 2 carpool lanes and weaving lanes
Burbank Blvd. Interchange Demolition & Reconstruction
Railroad grade separation at Buena Vista Street
Realignment / Closure of San Fernando Blvd near Lincoln Street.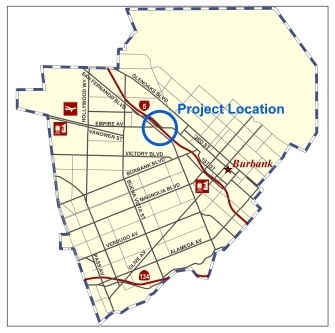 This complex project is fully funded Caltrans has awarded a contract for its construction. Construction began in May 2014 and all the project components should be completed by 2019. However, certain project components would be completed earlier depending on project phasing.
The highlight of the project is the construction of a new interchange with Empire Avenue in the vicinity of the current Scott Road offramp. This new interchange will provide full access to the freeway from both San Fernando Boulevard and Empire Avenue and allow traffic destined to the new Empire Center a direct freeway connection. The intersection would connect San Fernando directly to Empire Avenue providing a new link between Downtown Burbank and eastern Burbank with the Airport Area in western Burbank. This connection will improve circulation for vehicles, bicyclists, pedestrians, and transit vehicles.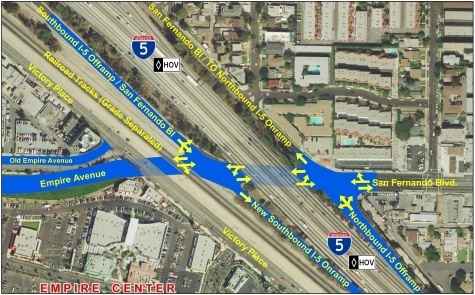 This project also includes reconstructing the Burbank Blvd interchange near the former "5-Points" intersection to improve circulation and reconfigure the outdated loop ramps with a modern diamond interchange. The project also removes a railroad crossing at Buena Vista Street to improve safety by removing train-vehicle conflicts. Metrolink tracks will pass over both Buena Vista as well as the new Empire Avenue connection. The Empire Interchange project is part of a larger effort to add carpool lanes along Interstate 5 through the City of Burbank. The freeway will be widened, and extra auxillary lanes added to accommodate the new freeway ramps. The map below shows the various components of the Empire Avenue Interchange and related projects in Burbank.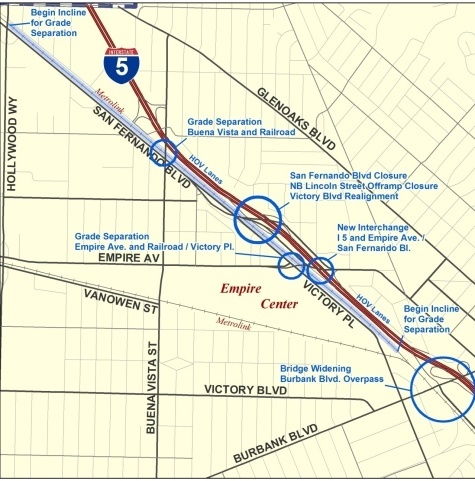 Project Renderings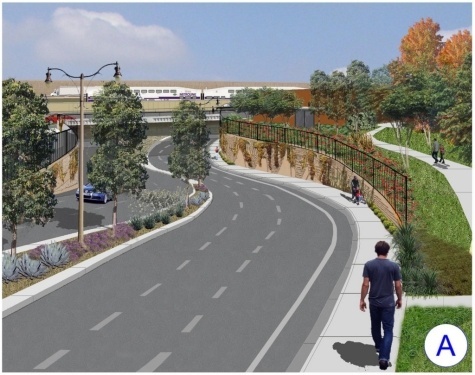 Empire Avenue looking east from Valpreda Street towards the new Empire Interchange. New Victory Place overcrossing and railroad bridge are visible. Rendering includes optional landscaping treatments being considered by the City.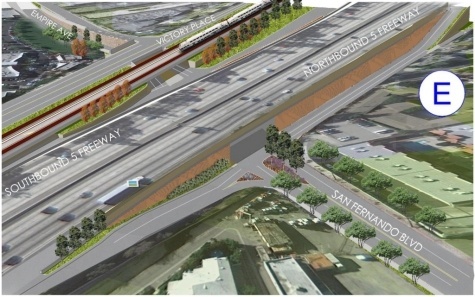 Aerial view of new Empire Interchange looking northwest. New diamond interchange, freeway bridge, and railroad bridge is visible.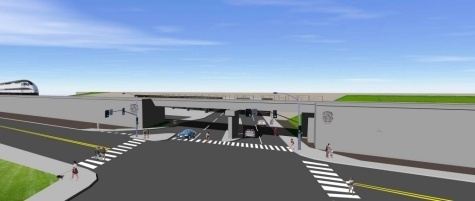 Buena Vista Street looking north at San Fernando Boulevard towards new railroad grade separation.