921 W. Riverside Drive (Pickwick Project Site)
921 W. Riverside Drive
The Amended Project includes the construction of 92 three-story residential townhomes.
ADDRESS:
921 W. Riverside Drive
Burbank, CA 91506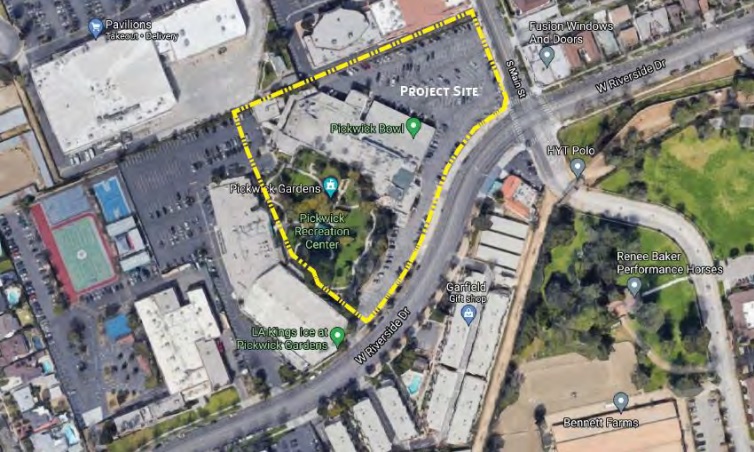 An SB 35 Ministerial Design Review to demolish the existing Pickwick bowling alley and construct 92, three-story residential townhome units ranging from 1,816 to 1,931 sq. ft. in size on a 5.01 acre site. A Tentative Tract Map is also proposed which will allow for the air-rights ownership of the units as part of the purchase. Project description updated on October 14, 2022.
October 2022 Amended Submittal:
On October 5, 2022 the applicant submitted an amended project application for ministerial design review for 92 residential units that will be considered by the City Council on Tuesday, October 25, 2022 at 6 P.M. in City Hall, 275 E. Olive Avenue, Burbank, California 91502. The public may attend in-person for comments. Instructions on how to view the meeting and submit comments remotely during the meeting will be posted online prior to the meeting date at https://www.burbankca.gov/web/city-clerks-office/meeting-agendas-and-minutes or the web address provided above.

Previously the City Council of Burbank held a Special City Council Meeting on April 18, 2022. The Council voted 5-0 to deny the previous project proposal. Below please find the link to view the Resolution denying the previous project proposal.
The next City Council meeting to review the Amended Project will be held on October 25, 2022 at the City Council Chambers (275 E. Olive Avenue, Burbank, CA 91502). To view the staff report and other documents for the Amended Project, please follow the link here:
https://burbank.granicus.com/GeneratedAgendaViewer.php?view_id=6&event_id=7548