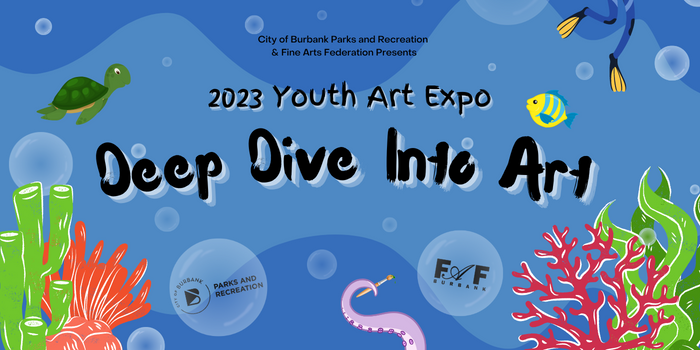 The City of Burbank Parks & Recreation Department and the Fine Arts Federation invite you and your children to participate in this year's Youth Art Expo, Deep Dive Into Art! Please view the Youth Art Expo 2023 Flyer for more information.

It is through the participation of teachers and parents that continues to make this event successful by encouraging their students/children to engage in the arts and showcase their creativity. We thank you in advance for all your efforts and support.

In addition to their submission, all students are also welcome to submit a colored sea animal - please use this template. All sea animals received will be included in the gallery show.

Artwork may be submitted starting February 13th. We are asking that all submissions be dropped off to the Betsy Lueke Creative Arts Center no later than March 17th by 5:00pm.
Grades 6 - 12 Reception
Thursday, April 6, from 5:30 - 7:00 pm
Grades TK - 5 Reception
Friday, April 7, from 5:30 - 7:00 pm
Address:
Betsy Lueke Creative Arts Center
1100 W. Clark Ave. Burbank, CA 91506
818.238.5397 | cacmail@burbankca.gov
CHeck back in April to view the Featured Artists Gallery!