Coronavirus (COVID-19) Updates
Frequently asked questions and resources about Reopening, COVID-19 Vaccine, and resources are answered here.

THE MOST RECENT LA COUNTY HEALTH ORDER REQUIRES MASKS TO BE WORN INDOORS REGARDLESS OF VACCINATION STATUS AND MANDATES VACCINATION OR NEGATIVE COVID-19 TEST RESULT FOR OUTDOOR MEGA EVENTS AND VACCINATION REQUIREMENTS FOR BARS, BREWERIES, WINERIES, DISTILLERIES, NIGHTCLUBS, AND LOUNGES FOR INDOOR SERVICES. LA COUNTY HEALTH ORDER HAS ALSO BEEN REVISED WITH NEW ISOLATION AND QUARANTINE GUIDLINES. GET ALL THE DETAILS HERE.

Need a COVID Test? President Biden has made 4 free At-Home Test Kits available for every residential address within the United States. Please visit COVIDTests.gov to order yours.

* Page last updated January 24, 2022*
Message from Mayor Jess Talamantes
LA County Vaccination Mandate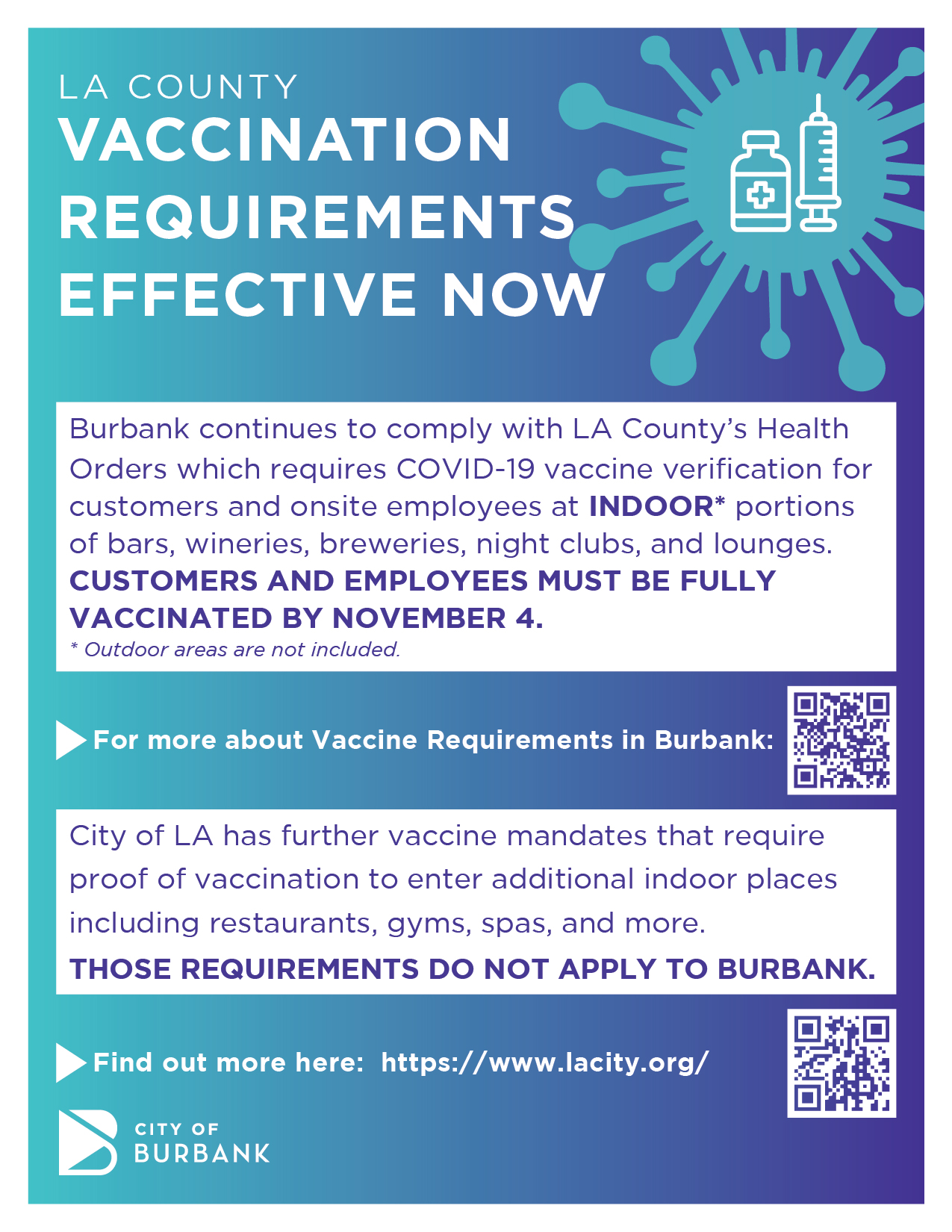 LA County COVID-19 Guidance Overview
COVID-19 Vaccination Requirement
Burbank continues to comply with LA County's Health Order which requires COVID-19 Vaccine verification for customers and onsite employess at indoor portions of bars, wineries, breweries, night clubs and lounges.

Vaccines and Boosters
The following documents and webpages include important information about vaccine eligibility, booster information, and more.
COVID-19 Testing
COVID Testing options are available throughout LA County including the following programs: Pick-Up Testing Kits or At-Home Testing.

Masking Requirements
Face maks and coverings are required indoors regardless of vaccination status. Effecitve January 17th, Employees in LA County who work indoors alongside others will be required to wear medial-grade masks.

Requirements for Employers
The COVID-19 Ongoing Requirements for Employers document summarizes ongoing requirements that employers must continue to follow in accordance with state, county, and local rules. Please see the links contained in the document for more detailed information about the requirements, including FAQs.
Other pertinent information and resources can be found on the Los Angeles County Department of Public Health website at http://publichealth.lacounty.gov/media/Coronavirus/


Additional COVID-19 Resources