3700 Riverside Drive
A mixed-use develoment project consisting of condominium units, restaurant/retail use, pocket park, and parking.

ADDRESS:
3700 Riverside Drive
Burbank, CA 91505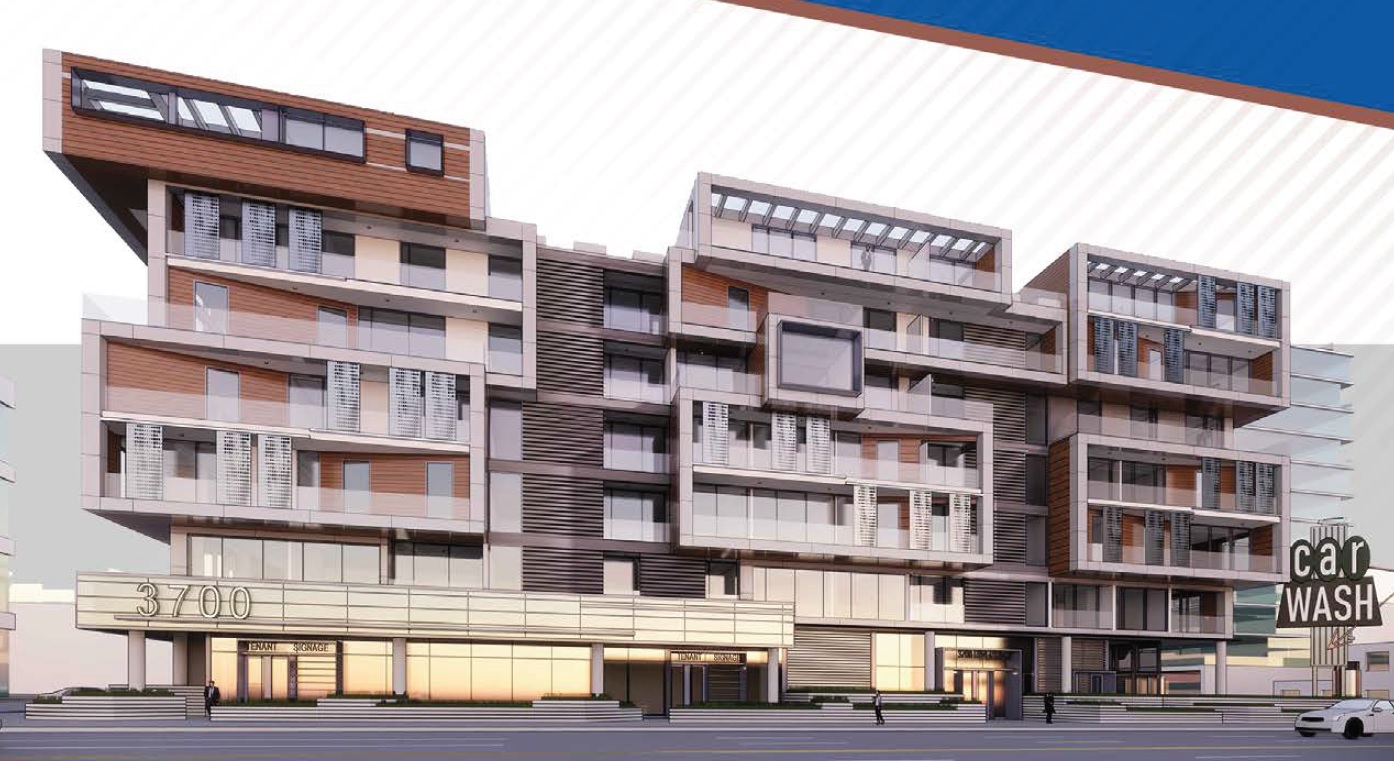 The Project is requesting Planning Board approval of a Development Review, Conditional Use Permit and Tentative Condominium Tract Map to develop a new six-story mixed-use residential building that includes a mezzanine level above the sixth story. The mixed-used building would consist of 49 residential for-sale dwelling units above approximately 2,000 square feet of commercial space and publicly accessible open space located on the ground floor. Additionally, the Project would provide ground level parking and one level of subterranean parking with a total of 90 parking spaces. This project site is approximately 0.61-acre site and is comprised of three existing lots located at 3700 Riverside Drive. Pursuant to California Government Code Sections 65915 – 65918, the Project includes a request for a State Density Bonus to allow for additional residential density, modified parking standards and waivers from certain development standards in exchange for making a percentage of the dwellings available at below market-rate – 4 of the proposed 49 residential units would be made available to very low-income households. The existing Lakeside Carwash and surface parking would be removed as part of the Project. However, the existing "Lakeside Carwash" pylon sign will be relocated on-site as part of the Project.

Below are copies of the proposed Architectural Plans and Tentative Tract Map:
At the meeting on April 11, 2022, the Planning Board considered the Project at 3700 Riverside Drive. The Project was approved by the Planning Board with a vote of 4 – 0, with amendments to the Project's Conditions of Approval. The meeting agenda, as well as a recording of the meeting can be found by following the link below.
Link to Meeting Agenda and Video Recording of Meeting:
https://burbank.granicus.com/player/clip/9754?view_id=44&redirect=true
The Planning Board's decision is final, unless appealed to the City Council. If appealed, the City Council would consider the Project at a future date and make a final decision. The appeal period runs 15-calendar days from the date of the Planning Board decision. It will run through 5PM April 26, 2022.
Below are copies of the environmental documents prepared for the Project to date:
Final Environmental Impact Report (Final EIR)