YOUTH EMPLOYMENT PROGRAMS - BEST
Burbank's BEST Program hires high school and college students ages 18 to 21 and places them at local businesses or non-profit organizations to gain hands-on work experience, valuable job training, real world knowledge, and experience to add to their resume.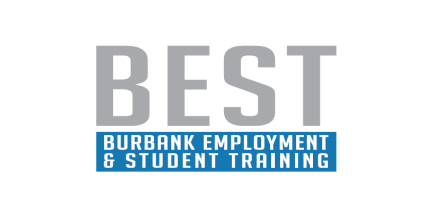 The BEST Program places students in worksites that match their individual career interests. In addition to on the job training, BEST students attend bi-weekly trainings in which they receive the opportunity to do community outreach, fundraising, marketing/research, special departmental projects, etc.
Students who complete the BEST Program receive:
A complete career portfolio including:

Professional resume
Cover letter
Reference page
Letters of recommendation
Professional goals
Sample of work
Certificates
Thank you letter

An interviewing opportunity with a local business or non-profit organization
Evaluation and constructive feedback from Youth Employment staff
Effective team working skills
Public Speaking skills
Money management and budgeting training
BEST Program, certificate of completion, signed by the Mayor of Burbank

Automatic eligibility for membership to the Burbank City Federal Credit Union and will receive training on how to enroll/information on Independent Advantage Program

1000 hours or one year of PAID WORK EXPERIENCE
Professional relationships with peers, local business owners and Youth Employment Officials
Sessions
Spring (February), Summer (June), and Fall (October)
Schedule
Mandatory training with the Youth Employment Office:

Spring and fall sessions: Mandatory training every-other Thursday afternoon (after school).
Summer session: Mandatory training every-other Friday morning.


​​​​​​​Hands-on work experience with a local business/non-profit organization

Flexible scheduling around school only.
​​​​​​​Students must be able to commit at least 10-15 hours per work week.
Applicants must be between 18-21 years of age by the start of the programs.
Prior work experience required
Applicants must answer a supplemental questionnaire along with the online application
Applicants must attach the following items with the online application:

Cover Letter
Resume
Letter of Recommendation

Applicants must commit to the full year to participate in the BEST Program. Scheduled training and work days are mandatory in order to gain a well-rounded experience with The City of Burbank.
How to Apply
Applications available 4-5 months online prior to each session.
Visit the City of Burbank website: https://www.governmentjobs.com/careers/burbankca
Click on the "Employment" link on the top right-hand corner of our website
Click on "Youth Services Worker – BEST Program" job link
Click on apply
Log in or create an account with the City of Burbank

Hiring Process
Interviews for the BEST Program are a competitive process and are held two months prior to each session.
Students who meet program requirements and submit a complete application along with the appropriate attachments will be notified of interview appointment by phone.
Students are to prepare for an oral interview as well as a written examination.
If required documents are not attached along with a completed online application, applicant will be automatically disqualified.
For questions, please call the Youth Employment Office: (818) 238-5324.