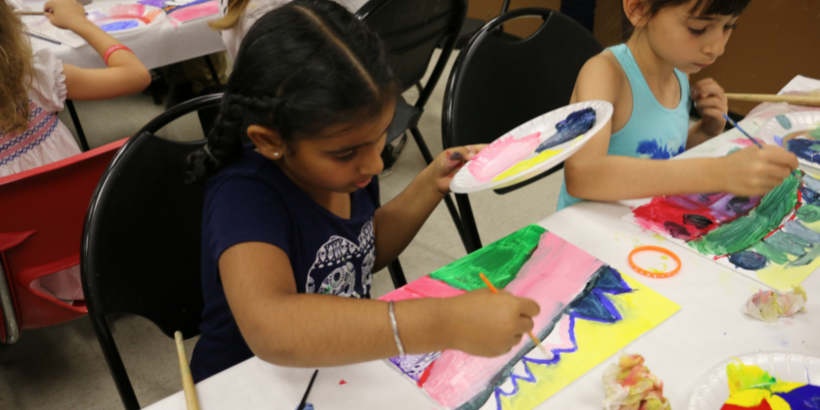 Art Experiences is a unique half day camp, for children ages 6 - 11, that offers a rotating schedule of one-hour workshops comprised of art, dance, music, and theater! Join us for a fun summer in the sun!
Nature Experiences Main Blurb
Applicable safety guidelines and protocols from the Los Angeles County Department of Health and the State of California will be adhered to.
Camp Schedule:
Monday-Friday 9:00 a.m.-1:00 p.m.
Session 2: June 6 - 10 |
Art of Space
Session 3: June 13 - 17 |
It's an Art World After All
Session 4: June 20 - 24 |
Exploring ARTdoors
Session 5: June 27 - July 1|
Get Groovy About Art
*Session 6: July 5 - 8 |
Artsy in the USA
Session 7: July 11 - 15 |
Land Before Art
Session 8: July 18 - 22 |
ARTvengers Assemble!
Session 9: July 25 - 29 |
Adventures Art-Island
Session 10: August 1 - 5 |
Campers Choice Awards
*No Camp July 4. Camp themes subject to change.
Burbank Residents: $110 per session
Non-Residents: $120 per session

*Session 6: $88 for Residents, $98 for Non-Residents
Resident Registration begins Saturday, March 19 at 1:00pm
Non-Resident Registration begins Wednesday, March 23 at 9:00am
Registrants are required to provide all necessary camper information during the online registration process. Information submitted will be used as an Emergency Form.
A refund will be issued when a Refund Request Form is received at least 10 business days prior to the start of the week enrolled. No refunds will be issued after this time regardless of the reason of non-attendance.
For each week refunded, a $10 refund fee per child, per week is withheld regardless of reason for refund.

A refund will not be issued for days missed in a week and there are no make-up days. Session camp fees are non-transferable and may not be applied toward another camp, session balance, or program.

Any refund of camp fees may take up to one week after notification to be processed. After a refund has been issued, credit card refunds may take up to seven business days depending on your credit card company/bank and check refunds may take 3-6 weeks to receive.
Contact Information
Betsy Lueke Creative Arts Center
1100 West Clark Ave, Burbank, CA 91506
(818) 238-5397