Starting a home project? Need to rid junk and clutter? We can help you dispose of it quickly and efficiently with a temporary dumpster delivered right to your home!
how to rent a temporary dumpster
Select the temporary dumpster you need
We have temporary trash dumpsters available for rent in two sizes. View them below under "Dumpsters & Rates".
Schedule with Field Services
Once your completed application is received, staff from Field Services will contact you to process payment and schedule your delivery.
Placement
Dumpsters need to be kept on private property, as close to the street or alley as possible, and on a flat concrete or asphalt area.
Load Restrictions
The 2-Yard dumpster can be loaded with heavy materials at a maximum height of 12" from the bottom of the dumpster. The remainder of space can be filled with lighter materials.

The 3-Yard Dumpster cannot be loaded with heavy materials. Only light materials are allowed.
*Heavy materials include dirt, rock, sand, and/or concrete. Light materials include lumber and household trash.

Maximum weight for all dumpsters is 1,000 lbs.
Dumpster Size Fee Per Collection
2-Yard $130
3-Yard $160

You must be a BWP Account holder to rent a temporary dumpster. You are billed weekly for the rental, which includes initial delivery, weekly rental, weekly pickup/disposal of one load, and bin removal. Additional collections can be scheduled at the rates listed above. If the bin is not ready for pickup, you can request to skip a week at $30 per skipped week. You will be billed for each week regardless whether the bin is full, blocked, or you forgot to request a skip.

Dumpster Dimensions
2 Yard - L 81 x H 42 x W 39
3 Yard - L 81 x H 61 x W 48

Note: All measurements in inches.
DELIVERY:
Temporary dumpsters are delivered within 1 - 3 days of receipt of the signed application and payment. The temporary dumpster will be placed, and must be maintained, on private property.
COLLECTION:
Temporary dumpsters are collected on your normal trash collection day* within 10 - 14 days of delivery.
*Don't know your collection day? View the
trash day map
or give us a call at
(818) 238-3800
.
You must be a BWP Account holder to rent a temporary dumpster. Fees will be billed to your utility account.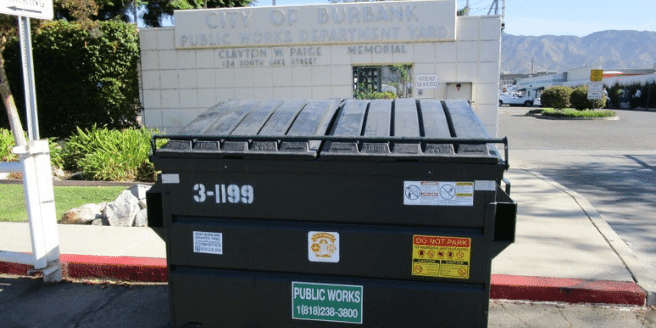 LOCATION, HOURS, AND CONTACT
Location
124 S. Lake Street
Burbank, CA 91502

Hours
Monday through Friday
7:30 a.m. - 4:00 p.m.