As of July 1st, the City of Burbank has expanded their Green Cart collection to include food scraps and other organic materials as part of a new State law, SB 1383.

What is Organics Recycling?
Organics are natural materials that were once alive, such as yard trimmings, soiled paper, untreated wood, and food scraps. The City is collecting this material for composting at an industrial facility that can handle a wide variety of organics.

"One of the miracles of soil is that it transforms death into life. Over time, soil can turn your rotten food into soil organic matter that in turn provides the nutrients for new plants to grow and bear fruit."
- Sally Brown, Research Professor at the University of Washington College of the Environment
What is Allowed in the Green Cart For Organics?
All green cart collections should be loose in the cart (no plastics bags--even those marked "compostable").
Yard Trimmings (leaves, grass clippings*, branches, brush, twigs, shrubs, hedges, etc.)
Food scraps, including animal-derived products (meat, dairy, eggshells, etc.)
Food-soiled paper (no plastic lining)
Untreated, unpainted, metal-free wood

Please cut pieces to fit into the green container so the lid can close.

Can't find what you're looking for above? View our comprehensive list.
Prohibited Items
All plastics, including bags
Compostable plastics
Pet waste and kitty litter
Street litter (from leaf blowing)
Manure (may be added at a later date)
Dirt
Want to learn more? Check out the Where it Goes guide for more "answers at your disposal".

For helpful tips on how to recycle organic material with the green cart collection, download the "Food is NOT Trash" Guide in English (PDF), Spanish (PDF), and Armenian (PDF).

How the Food Scrap Collection Works:
Keep food scraps and food-soiled paper items out of your kitchen trash and in some type of container during the week.

The City of Burbank offers a free food scrap collection pail for residents, if desired.
Remove stickers, twist ties, rubber bands, and plastic wrap from food scraps

Place collected food scraps and other organic materials, loose in the green cart. NO PLASTIC BAGS*.

*Uncoated paper bags or newspapers are an accepted alternative because they are considered an organic item when soiled by food.

On your collection day, empty your food scraps on top of any yard trimmings in the green cart.

Cardboard, like pizza boxes are helpful if there is little landscape material in the cart.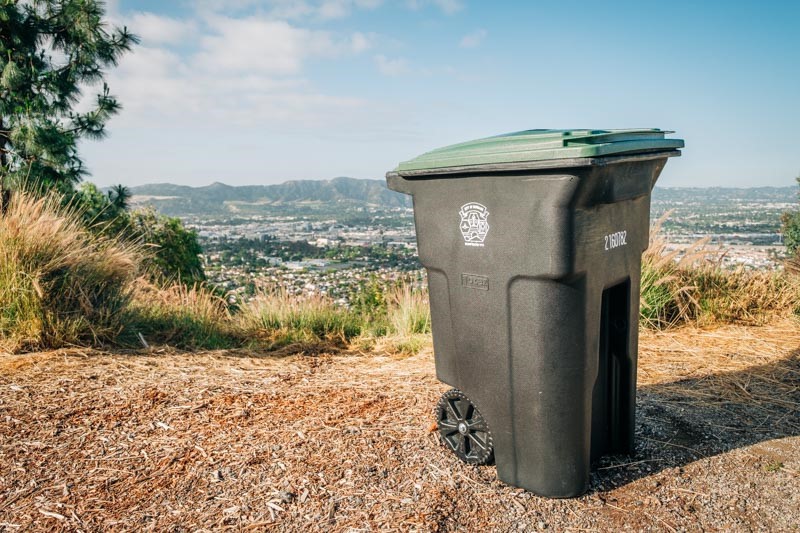 View our Food is NOT Trash Guide to learn more about the new food scrap collection program.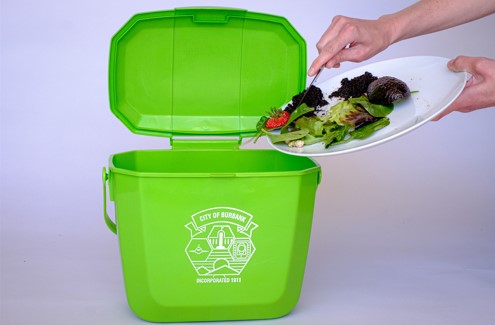 Are you a Burbank resident? Get information on how to get your free food scrap collection pail.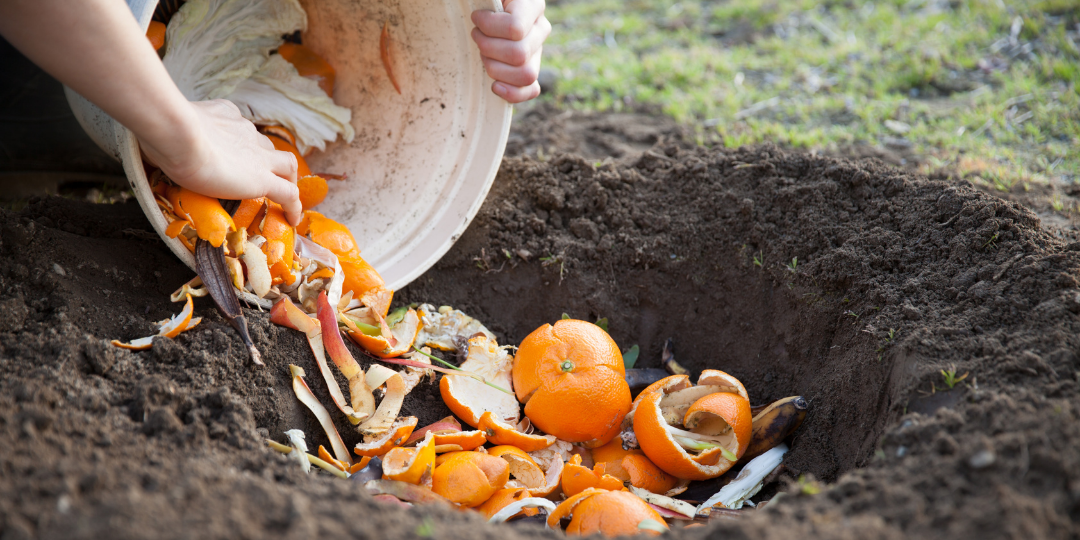 Nature has been recycling organics for billions of years. Nutrients that plants take up during their life are released back into the soil, forming compost. Learn how to replicate this process in your own yard to bring natural resilience to your landscapes and garden! Start a backyard compost and create homergrown fertilizer.

Did you know that 18% of the Burbank landfill's waste is made up of food scraps? There is a new State law aimed at reducing the environmental harm caused by food going in the trash. Burbank is composting this material through the green cart collection (organic recycling). Watch this webinar hosted by the Burbank Recycle Center and Landfill that will walk you through the changes.