The Solid Waste Division and Recycle Center service all single-family residences, 50% of multi-family residences, and approximately 10% of the City's commercial/industrial refuse customers. Find out your cart collection day by viewing the trash day map. To view current bin or cart sizes and costs, please check the current Refuse Collection Fees in Article II, Section 1 of the Fee Schedule.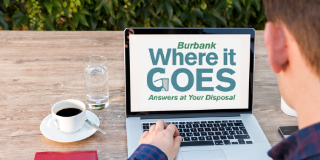 Not sure if something should be recycled or disposed? Visit our Residential Recycling page for more information and to access our searchable tool to find out.
LOCATION, HOURS & CONTACT
Location
Public Works Field Services
124 S. Lake Street
Burbank, CA 91502
Hours
Monday through Friday
7:30 a.m. - 4:00 p.m.