Looking for something specific? Check out our search tool to quickly find "answers at your disposal"! You can also learn more on our Where it Goes pamphlet (PDF).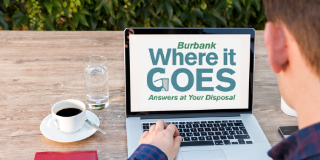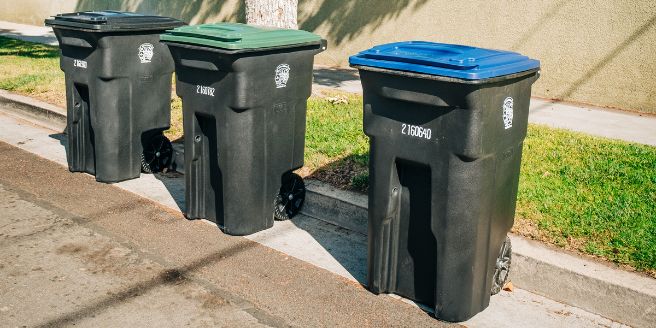 Sometimes, what we throw away could be still useful. Before disposing of an item, consider "reduce and reuse" such as donation or repurposing first.
The following are common items that go in the trash container:
Anything not considered recyclable (see Blue Container)

Items not considered household hazardous waste (HHW)

Unrecyclable plastics (#3, 4, 6, 7 or undisclosed)

Small plastics (4" in diameter or smaller)

Plastic bag (film products)

Compostable plastic

Wrappers and pouches

Paper cups (and any paper lined in plastic)

Cartons

Wipes

Foam (polystyrene)

Tanglers (hoses, string lights, bags)

Textiles

Toys (electronics or anything with a battery is not allowed and considered hazardous waste and must be dropped off at a HHW collection site)

Dirt*

Horse manure

Pet waste
Prohibited Items
Household hazardous waste (paints, pesticides, medicines, chemicals, tanks, etc.)

Yard clippings (organics)

Food scraps (organics)

Liquid such as gas and oil

Hot ashes and coal

Dead animals**
*Containers can accommodate no more than 200 pounds. Please do not overload them with large quantities of sand, soil, or other heavy materials. Overloaded containers will be tagged and not emptied until materials are offloaded.
**Contact the Burbank Animal Shelter at (818) 238-3340
for more information about animals.
Acceptable Items (Must be 4" or larger in size. Tiny items aren't recycled)
Newspapers

Cans, emptied and rinsed (aluminum and tin/steel)

Cans, aerosol, non-hazardous, and completly empty

Glass bottles and jars, emptied and rinsed

Note: While accepted in the blue cart, it is preferred that glass bottles and food jars are dropped off at the Burbank Recycle Center to avoid glass colors breaking and mixing.

Plastics

#1 - bottles and jars and clear clamshells (produce containers, cups, and takeout ware)

#2 - bottles and jugs

#5 - tubs, yogurt containers, coffee can lids, etc. (no black)

Magazines, catalogs, and phone books

Junk mail, ads, office paper, cereal boxes (loose or in paper bags)

Cardboard and paperboard (includes clean pizza boxes)

Please remove all packaging/plastic wrap and tape, when possible.
Prohibited Items
Paint and other hazardous items

Paper that has touched food (napkins,

plates, cups, towels, tissues, food wrappers, frozen food boxes, soiled portion of pizza boxes)

Polystyrene Foam or Styrofoam

Plastic bags

Carbon papers

Metallic papers

Tissue/toilet paper

Garbage

Shredded paper

While not accepted curbside, it can be placed in a plastic bag and dropped off directly to the Recycle Center.
Print our Recycle Cart Sticker Sign for a quick guide of what can and cannot go in your cart.
Food scraps are allowed in the curbside collection green cart!
Check out Organics Recycling for more information.
Accepted Items
Yard Trimmings (leaves, grass clippings, branches, brush, twigs, shrubs, hedges, etc.)
Trees

Food scraps, including animal-derived products (meat, dairy, eggshells, etc.)

Food-soiled paper (no plastic lining)

Food scraps including animal-derived products

Untreated, unpainted, metal-free wood

Please cut pieces to fit into the container so the lid can close.
Prohibited Items
Household items

Plastic bags

Pet waste

Horse manure

Dirt
Print our Green Cart Sticker Sign for a quick guide of what can and cannot go in your cart.
Backyard composting is a great way to recycle greenwaste! Learn more and request a City-provided compost bin (free to Burbank residents) at
Composting
.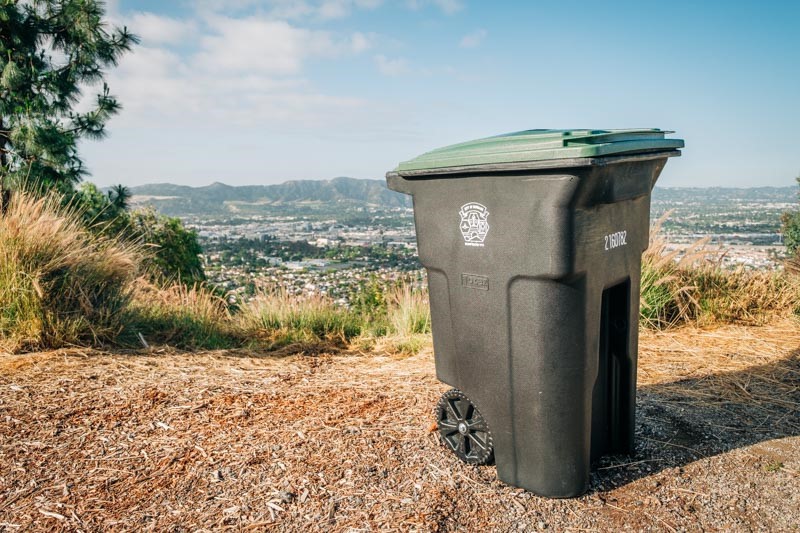 As of July 1, 2022, food scraps, food-soiled paper, and yard trimmings go in the green cart.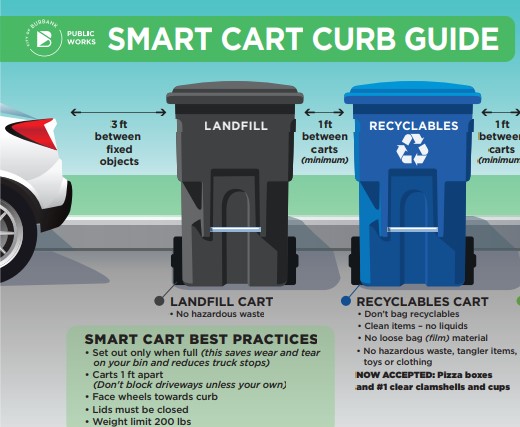 The City of Burbank is offering residents a free food scrap collection pail. Find out how to pick one up.