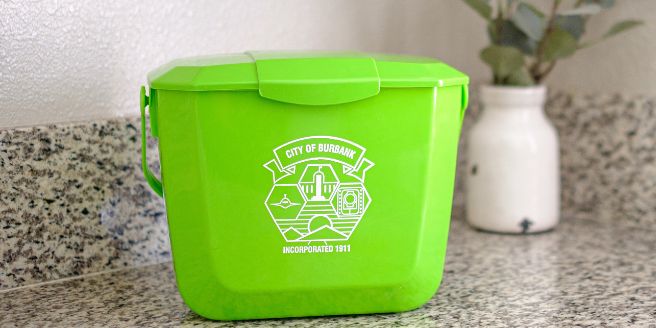 We are offering a free kitchen pail* to make it easier to store your food scraps until your disposal collection day. Use the pail to transport and empty the collected food and food-soiled paper into the green organics cart. Do not place the kitchen pail at the curb for collection.
*Burbank I.D. required; limit one pail per household.
Where to Pick Up a Free Food Scrap Kitchen Pail:
Upcoming Events:
Burbank Farmers Market
101 N. Glenoaks Blvd., Burbank, CA 91501
Saturdays listed below, 8:00 a.m. - 12:00 p.m.
Civitan and Jamboree Day
George Izay Park - 1111 W. Olive Ave., Burbank, CA 91506
Saturday, June 24th, 8:30 a.m. - 12:00 p.m.

Starlight Bowl - 1249 Lockheed View Dr., Burbank, CA 91501
Tuesday, July 4th, 5:30 p.m. - 7:30 p.m.
The Care and Feeding of Your Pail:
Read the "Food is NOT Trash" Guide (PDF)* for helpful tips on how to properly recycle organic material into the green organics cart.
NO PLASTIC BAGS (even those marketed as "compostable")
Remove all plastics including stickers, bindings, packaging, etc.
You can line your pail with a paper bag, paper towels/napkins, or newspaper
Sprinkle baking soda in the pail to absorb odors; old spices can also be used as needed
Freeze food (when able), especially meat, until your green cart collection day
Rinse pail regularly with soapy water or place in dishwasher*

*Separate lid from pail to avoid warping

Apartments may have a private hauler that requires compostable bags, so check with your property manager or waste hauler for their guidelines.