Next Induction Ceremony: October 2023
Call for Nominations: May 2022 to May 2023
Contact Christine Rumfola for application and more information
at (818) 238-5330 or via email crumfola@burbankca.gov.
---
The City of Burbank recognizes the value of sports and athletic activities within the community.
To this end, the City is committed to the provision of high-quality and diverse athletic programs.
These standards are achieved through the commitment and dedication of individuals who, in their roles as participants, volunteers, or professional staff, have furthered the excellence of organized sports programs sponsored by the City of Burbank.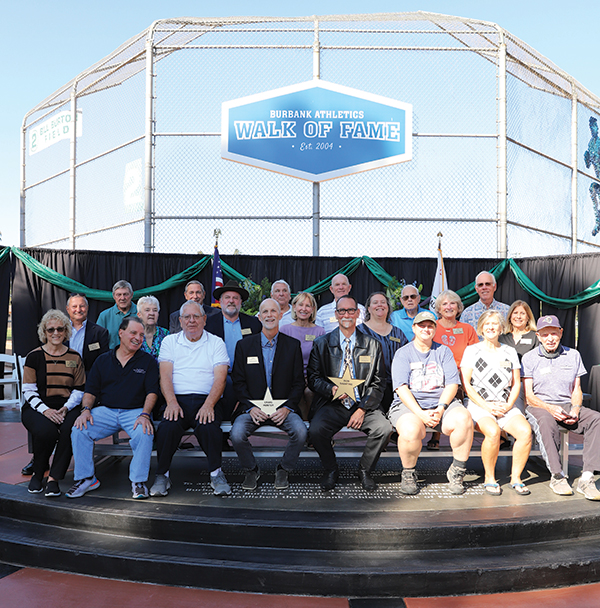 June 5, 2004
October 30, 2004
October 1, 2005
Gus De Felicis
Dan Gonzales
Dewey R. Kruckeberg
Mike McHorney
Barbara Rownd
Kenny Wattenberger
Hal Whitfield
Blackie Winter
Kevin Anderson
Jan Broneer
Paul Broneer
Bill Burton
Jim Lloyd
Al Madrid
S. Doyle Nave
Don Sobiech
Rollie Bigbee
Gordie Martin
Darrell Taylor
October 14, 2006
October 6, 2007
October 11, 2008
Mike Graceffo
Bob Harman
Terre Hirsch
Russ Johnson
Chuck Lisi
Donna Rondinella Lowande
Barry Whitfield
Mary Alvord
Ken Bailey
Maynard Campbell
Mickey DePalo
Bill Flora
Laban Freeman
Karen Sartoris
Jerry Walls
Mike Acosta
Steven Beardsley
Al Davis
Al Fredrickson
Debbie Ludwig
Don Ludwig
Linda Oseransky
Laurie Patterson
Patrick Patterson
October 3, 2009
October 2, 2010
October 8, 2011
Tony De Felicis
Mike Delaney
Eddie Pape
Robb Roberts
Jim Barnfather
Vi Lasky
Al Peppi
Russ Burton
Ron Gobble
Ron Rossiter
Rick Williams
October 6, 2012
October 4, 2014
October 3, 2015
Cindy Dyer
Douglas Howe
Dennis Roy
Chuck Siedschlag
Tonie Siedschlag
Robin Smola Schwer
Terry Scott
Elise Stearns-Niesen
Jess Talamantes
James A. Frankian
Edward R. Harvey
Lynn Lehman
Don Jensen
Tom McDonald
Larry Nelson
Mary Nelson
Terri S. Thomas
October 1, 2016
October 7, 2017
October 5, 2019
Bill Dunaway
Bob Lizarraga
Tiffany Nelson
Jose Sandoval
Celebration of
60th Anniversary
of Ponytail Softball
Burbank Foothill Civitan Club
Carol Finkle
Tom Gowanlock
Tino Grimaldo
Duane Nelson
Dawn Norvell
Douglas Reily
October 2, 2021
Craig Hunter
Ron Sabatine
location, hours & contacts
Sports Office
Olive Recreation Center
1111 W. Olive Avenue
Burbank, CA 91506
(map)
Office Hours
Monday through Friday
9:00 a.m. to 6:00 p.m.