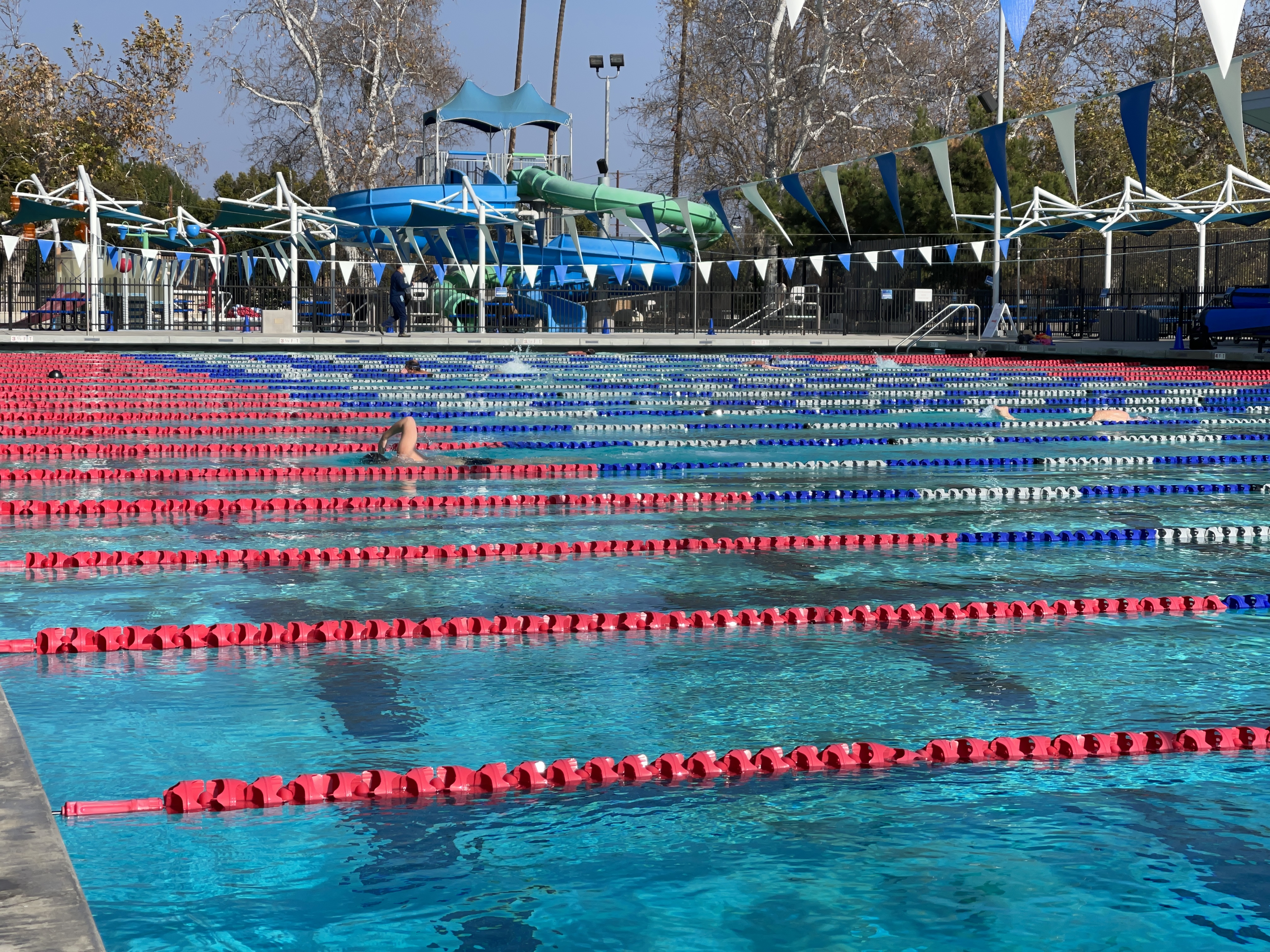 Lap Swim
For additional Lap Swim information specific to each facility, please click on the drop down menus below. Program requirements, admission/membership fees and refund information can also be found below.
Verdugo Aquatic Facility (VAF) is open year-round for lap swimming. It boasts an olympic sized pool tank with offerings in Short Course (25-yards) and Long Course (50-meters). The facility is complete with Locker Rooms, changing stalls on deck, indoor and outdoor showers, as well as other ADA amenities. VAF does not have available lockers for use Program schedules change occasionally. Please see our schedule below for our current availability.
Lap Swim Schedule
NEW Verdugo Aquactics Facility 9.2-10.29.23
Lane Availability Chart
NEW LANE AVAILABILITY COMING SOON
---
HOURS & AVAILABILITY ARE SUBJECT TO CHANGE WITHOUT NOTICE
The McCambridge Pool (MCP) is an olympic sized 50-meter pool tank. The facility only operates during the summer season to augment aquatic offerings during the peak season. The facility has indoor showers, locker rooms with indoor changing stalls, and restrooms. McCambridge Pool does not have available lockers for use. McCambridge Pool only offers Long Course (50-meter).
Lap Swim Schedule
NEW McCambridge Pool Lap Swim Schedule 8.19 - 9.1.23
Lane Availability Chart
The Lane Availability Chart helps participants view the number of lanes available during a given time. This document will be updated as changes occur in programming. For current swimming conditions, please call and speak with facility staff.
Coming Soon
HOURS & AVAILABILITY ARE SUBJECT TO CHANGE WITHOUT NOTICE
In addition to the Facility Rules of Conduct & Pool Rules and Regulations, participants must adhere to the following program requirements.

Lap Swim lanes are designated for organized swimming and exercise and are not to be used for recreational purposes. Recreation swim is not allowed. Participants not actively swimming will be asked to exit the lap swim lane(s).

Participants must be thirteen (13) years or older (with the exception of children who are members of a sanctioned swim team).
No standing in the middle of the lane. Rest must be taken on the walls, in either corner, not on the center tee.
Starting blocks are for competition and sanctioned practices only and are closed to the general public.
Professional or private coaching of any kind is not permitted without prior City approval and permits.
Circle swim etiqueete is required during all lap swim hours.
Lap Swim Memberships & Single Visit Fees
Burbank
Resident
55+Senior
Burbank Resident
Non-Burbank Resident
55+Senior
Non- Burbank Resident
Single Visit Admission
$5
$3
$7
$5
Monthly Membership
Valid 30 days from
date of purchase
$62
$37
$87
$62
Summer Membership
Unlimited
May 30 - August 28
$170
$96
$244
$170
Annual Membership
Unlimited based on
date of purchase
$412
$247
$577
$412

Lap Swim Memberships and fees are valid at both the McCambridge Pool and Verdugo Aquatic Facility.

All participants who enter for Lap Swim or during Lap Swim program hours are required to pay admission.
Lap Swim Membership Information
For Membership refunds, complete and submit a Refund Request Form to
BurbankAquatics@burbankca.gov
.
For policy and Refund Request Form, please
Refund Policy & Refund Request Form tab
at the bottom of the main Aquatics landing page www.burbankca.gov/aquatics
For more information about our lap swim program please contact our Aquatics office
McCambridge Pool (Seasonal)
1515 N. Glenoaks Boulevard
Burbank, CA 91504
(818) 238-5381
Aquatic Office Hours:
Monday - Friday
8:00 a.m. - 6:00 p.m.

Saturday & Sunday
8:00 a.m. - 2:00 p.m.
Verdugo Aquatic Facility
3201 W. Verdugo Avenue
Burbank, CA 91505
(818) 238-5391