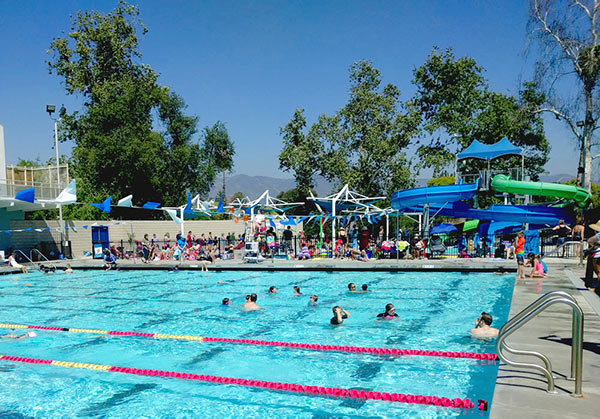 The City of Burbank owns and operates one seasonal and one year-round swimming facility. The Recreational Swim program is available at McCambridge Pool during the Summer and at the Verdugo Aquatic Facility during late Spring, Summer and early Fall.
Please see the menu options below for schedules and program information.
The Verdugo Aquatic Facility (VAF) is home to one olympic sized multiuse swimming pool and an Activity Pool complete with two water slides. The facility boasts two diving boards, outdoor changing facilities, a snack bar and various shade structures. The facility is open year-round with program schedule differences throughout the year.
Recreational swimming only available during Summer, early Fall, and late Spring.
Located at 3201 W. Verdugo Ave. Burbank, 91505.
The McCambridge Pool (MCP) is another olypmic sized facility the City of Burbank owns and operates. The facility has various shade structures, new picnic benches, and a diving board. McCambride Pool is a seasonal facility only open during the summer months.
Located at 1515 N. Glenoaks Blvd. Burbank, 91504
Closed until Summer 2023
Before visiting for recreational swimming, please read our rules and regulations: All waterslide riders must be a minimum of 47 inches tall and weigh under 265 pounds.

At the Verdugo Aquatic Facility