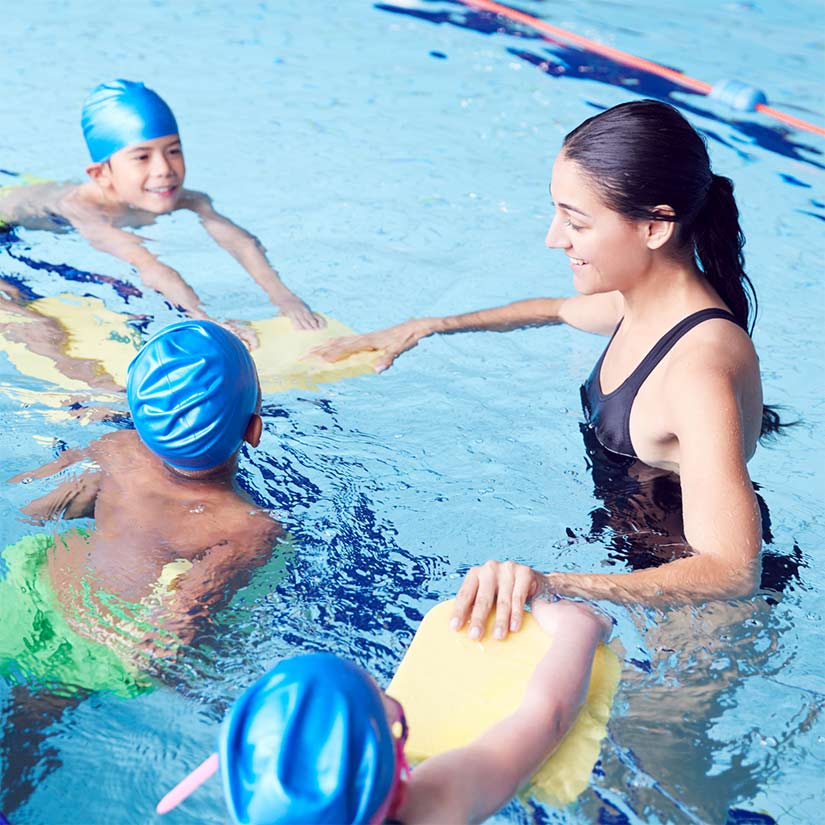 Please check back in July for updates for fall registration information

Classes will be available at Verdugo Aquatic Facility only. Classes will begin in September.
Take a look at each prerequisite for the levels listed below. If your child can complete the action listed in the description, then proceed to the next level. If not, that would be the safest level for them to start their swim instruction. Private & Semi Private Lessons are available via Breakthrough Sports at both of our facilities.

If you're still unsure of which class to register for, feel free to stop by the Verdugo Aquatic Facility prior to registering for a Swim Evaluation by one of our trained staff members.

For Intermediate & Advanced level swimmers, Swim & Water Polo Training Academy are also available.

Youth Swim Team & Water Polo Team have seperate prerequisites and can be found on the Aquatics Sports page.
Comfortable putting face in the water and blowing bubbles.
Can float & swim on back and front and swim for 5 yards unassisted.
Can swim on back and front half the distance of the pool unassisted.
Can swim the length of the pool with alternate breathing.
Can swim continuous freestyle, backstroke and breaststroke.
Our friendly and experienced instructors provide group swim lessons for ages 3-13 years old, from the beginner to the advanced swimmer.
Classes are divided by age group
Preschool levels 1-3: children aged 3-6 years old.

Youth Levels 1-5: children aged 7-13 years old.
Please enroll in classes based on the appropriate swim level.
Description and Prerequisites: If your child does not meet the minimum requirements of the class every effort will be made to transfer them to the appropriate level. If there are no transfer options available, a refund will be processed and your child will be dropped from the class. All applicable refund fees will apply.
After the class meets maximum enrollment, additional students will be placed on a waiting list and will be notified if/when a space becomes available. Students transferring from the waitlist will be charged a prorated fee based on the amount of remaining classes in the session.
Please note that class space is limited. Class times are subject to change. In the event of unsafe weather conditions, classes may be cancelled. Please note that flotation devices (lifejackets, water wings, etc.) are not permitted.
We offer small class ratios to improve learning, safety, and progression!
To view current class offerings, please check out our Recreation Guide. Register for classes at burbankparks.com.
Adult learn to swim is offered to participants 13 years and older to provide the opportunity to learn how to swim or perfect your swimming skills. From beginner to advanced, we have a class that will fit you. Our curriculum for adult classes is tailored for participants to progress at your own speed, with language that is tailored to the adult. Classes are typically offered in two sections: Levels 1-3 and Levels 4 & 5.
To view current class offerings, please check out our Recreation Guide. Register for classes at burbankparks.com
Aquacise
Aquacise is a fun-filled water aerobics class that mixes exercise with a social atmosphere. This program is designed to get you moving and exercising with the benefit of a water supporting your weight and taking the pressure off your joints. All the while giving your muscles the resistance training they need. Build your cardiovascular fitness and strength. With upbeat music to keep you motivated, Aquacise is open to all participants ages 15 -99+. There is no minimum fitness level required.
Instructor: Melissa Lau - Breakthrough Sports
Aquatic CardioFit
This safe, fun, and effective workout uses water exercises to build muscle and reduce body fat with little or no impact to joints... all done in a heated pool to fun and energizing music. The water offers a heavier resistance than air, so participants can experience a challenging workout while the buoyancy takes away most or all of the impact to bones and joints!
Optional: Bring aquatic fitness gloves to increase resistance.
Instructor: Karen Eldridge
Aquatic NoodleFit
Set to upbeat music, this program is a low-impact/ high energy, full-body interval water workout that concentrates on using the noodle as a prop to offer additional resistance and buoyancy while we effectively perform grounded and suspended pool exercises interspersed with cardio blasts to develop muscle tone (upper and lower body + abdominals) and cardiovascular fitness. Please join us in our heated pool and splash your way to a healthier you.
*Bring your own pool noodle.
Instructor: Karen Eldridge
Register online at burbankparks.com