The Burbank Youth Board offers high school and middle school students a great opportunity to learn about and actively participate in local government. Members have the opportunity to represent the interests of local youth in community affairs and encourage peers to actively participate in community affairs and matters of concern to the City.
The Youth Board comprises representatives from Burbank public and private middle schools and high schools as well as at-large members. School representatives must be nominated by school staff while at-large positions are chosen through an interview process.
All Youth Board members are appointed by City Council. Members must attend monthly meetings held the first Wednesday of the month from 6:00 p.m. - 7:30 p.m.
Call Mary Alvord Recreation Center (818) 238-5390 for more information.
2023/2024 Application!

Completed applications should be scanned and emailed to: jgriffin@burbankca.gov by Friday, September 8th, 2023.

For more information, please call (818) 238-5390.
The City of Burbank Youth Board's Austin Cook Award honors outstanding youths who have positively contributed to the community. Examples of contributions might include, but are not limited to:
Providing outstanding volunteer service
Achievement while overcoming adversity
Donating talents to the community
This award program is designed to highlight middle and high school aged teens who live or go to school in Burbank. Nomination forms for 2024 will be available in March 2024.

2023 Austin Cook Award Winner is Gemma Hernandez from John Burroughs High School.

For more information, please call (818) 238-5390.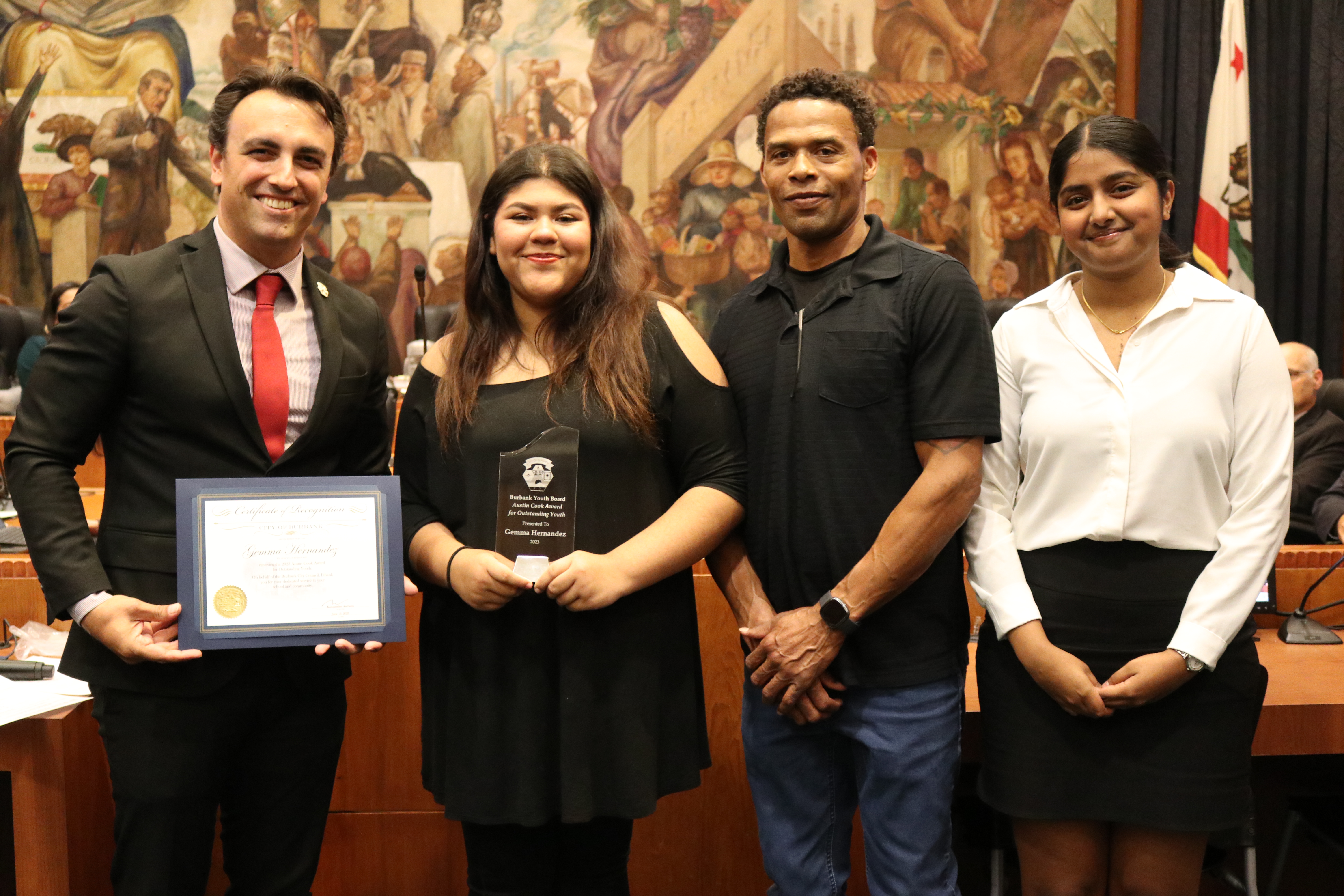 From left: Mayor Konstantine Anthony, Gemma Hernandez, Ty Cook, and Neha Ramesh (Youth Board Secretary).
LOCATION & CONTACT INFORMATION
Location
Mary Alvord Recreation Center
3201 W. Verdugo Avenue
Burbank, CA 91505