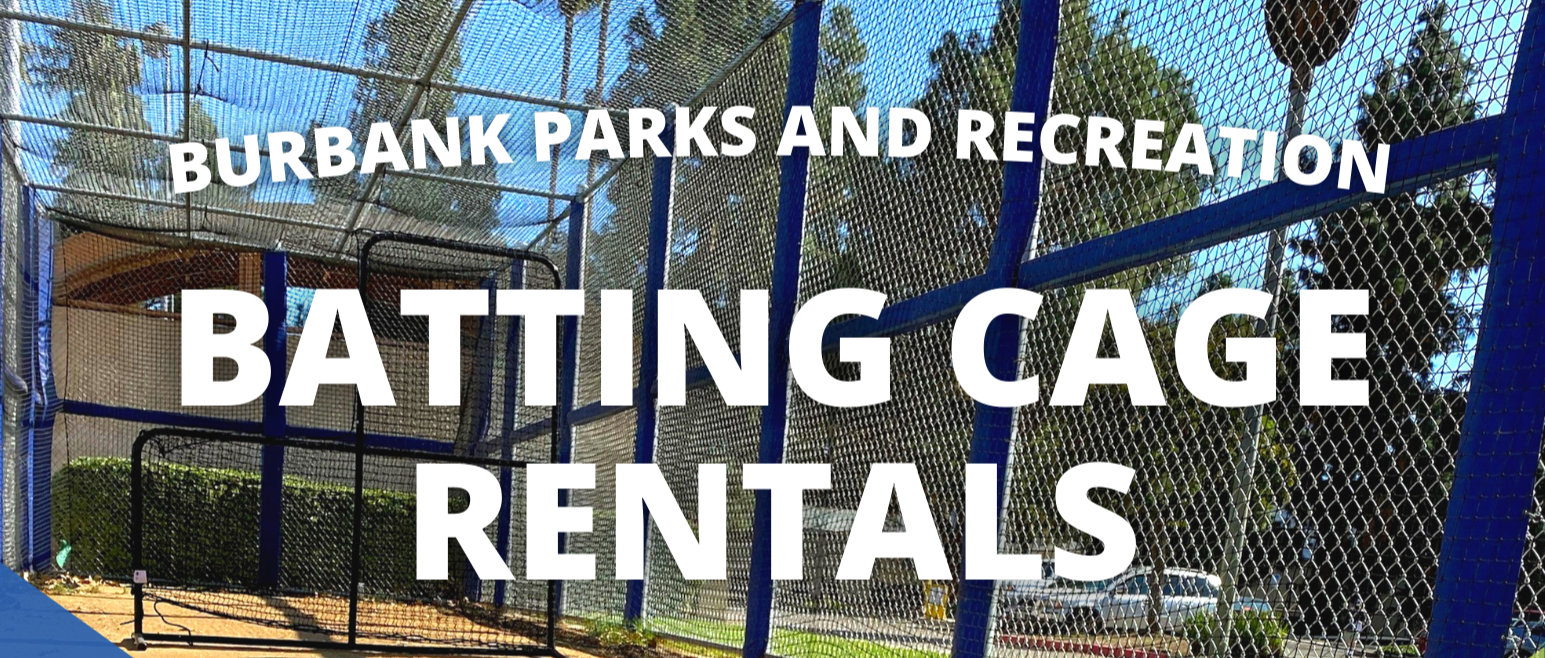 Pitching machine and equipment not provided.
View policies and guidelines for use below.
For more information, call 818.238.5330 or reserve online at www.BurbankParks.com.
LOCATIONS, HOURS AND RATES
McCambridge Park - FIELD #4
1111 W Olive Ave
Burbank, CA 91506

GEORGE IZAY PARK - FIELD #4
1111 W Olive Ave
Burbank, CA 91506
Resident- $15.00/30 min
Non-Resident- $30.00/30 min
**Max of 1.5 hours per day**
Permittee assumes all risks by using the City of Burbank facilities pursuant to this permit. Permittee assumes all liability for any injuries, damages, claims, demands, causes of actions that occur during the Permittee's use of any of the City of Burbank's facilities under this Permit. Permittee will defend & indemnify the City of Burbank & its officers and employees against all claims and/or causes of action that result from the use of any of the City's facilities under this Permit. The obligation to defend the City shall occur upon the filing of any claim and shall not be dependent on the establishment of any negligence on the part of the City or Permittee. Permittee further acknowledges that prior to Permittee's use of the facilities it will inspect all facilities and all premises that it intends to use for safety.

BATTING CAGE RULES
No person shall provide or offer private instruction for compensation in City-owned batting cages except as part of and approved as a City-sponsored program.
Permit holder must be at least 18 years of age and present for the duration of the rental
Permit holder must have approved proof of permit while using the batting cages.
Maximum capacity for the batting cage is two (2) persons.
Participants must wear adequate protective gear appropriate for their sport including but not limited to batting helmets for baseball or softball.
All pitchers must use the L screen if there is a batter in the cage.
Permit holder is responsible for all persons actively using the batting cage and outside the cage waiting for use.
All individuals waiting to use the batting cage must remain 2 feet back from the cage fencing.
All individuals waiting to use the batting cage must not block walking paths.
For usage other than baseball or softball, use of the cage and corresponding safety measures must be approved in advance by City of Burbank Sports staff.
Batting practice and swinging of bats must only take place in the cage. No batting practice outside of batting cages.
Tennis shoes or turf shoes only- No metal or rubber cleats
All users must wear batting helmets before entering the cage for the use of batting
All users are expected to keep the batting cage area clean and free of litter and pick up all trash at the conclusion of usage.
Storage is not permitted within the batting cage or park, remove all personal items at the conclusion of permit.
User groups are allowed only to use the batting cage during permitted reservation.
Any equipment malfunction, damage to the batting cage area, or potential hazards must be reported by the permit holder immediately upon notice to the City of Burbank staff on-site.
When the cage is in use, the chain-link access gate must be closed to prevent outside observers from being exposed to hit balls.
Batting cage will be close due to inclement weather.
USE PITCHING MACHINE RULES
Pitching machine operator must be at least 18 years of age.
The permit holder's user group is permitted to supply and use a pitching machine and balls for use inside the batting cage only.
The speed of the machine should be set to the appropriate age and ability of the user.
Pitching machine adjustments must not be made with a batter in front of the machine. All adjustments need to be made from behind the machine.
A pitching machine should never be used in wet or extremely windy weather. At the first sign of rain, it is the responsibility of the permit holder to pull all power cords and remove the ball machine.
location, hours & contacts
Sports Office
Olive Recreation Center
1111 W. Olive Avenue
Burbank, CA 91506
(map)
Office Hours
Monday through Friday
9:00 a.m. - 6:00 p.m.

The office is currently closed for in-person business. Please contact us by phone or email.