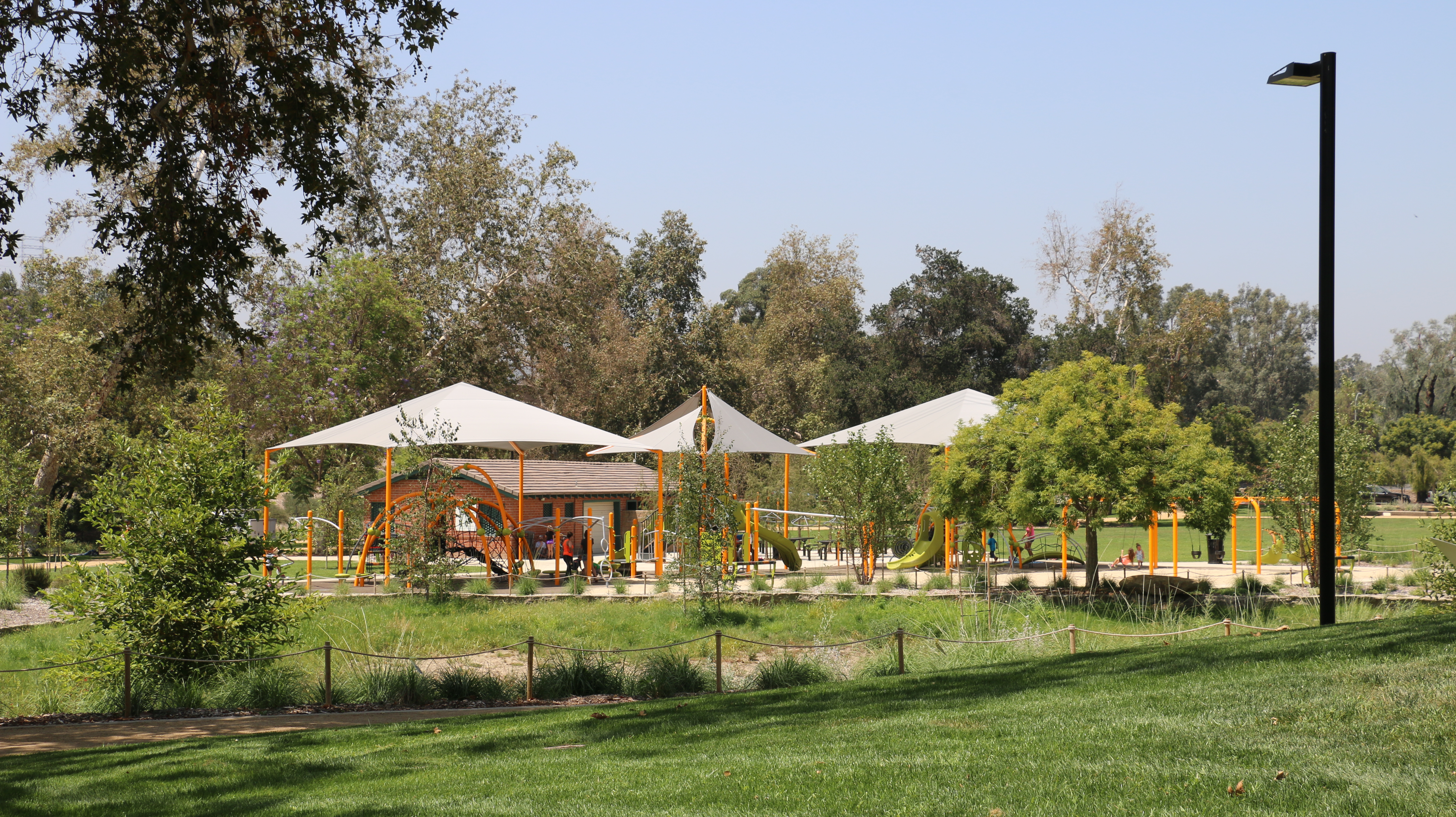 As of April 1, 2021, all fields are playable and sports programs will continue as scheduled.
In the event of field closures, this web page and the Field Conditions Hotline (818) 238-1970 will be updated to inform managers and players when athletic fields are unplayable or when games and programs are cancelled.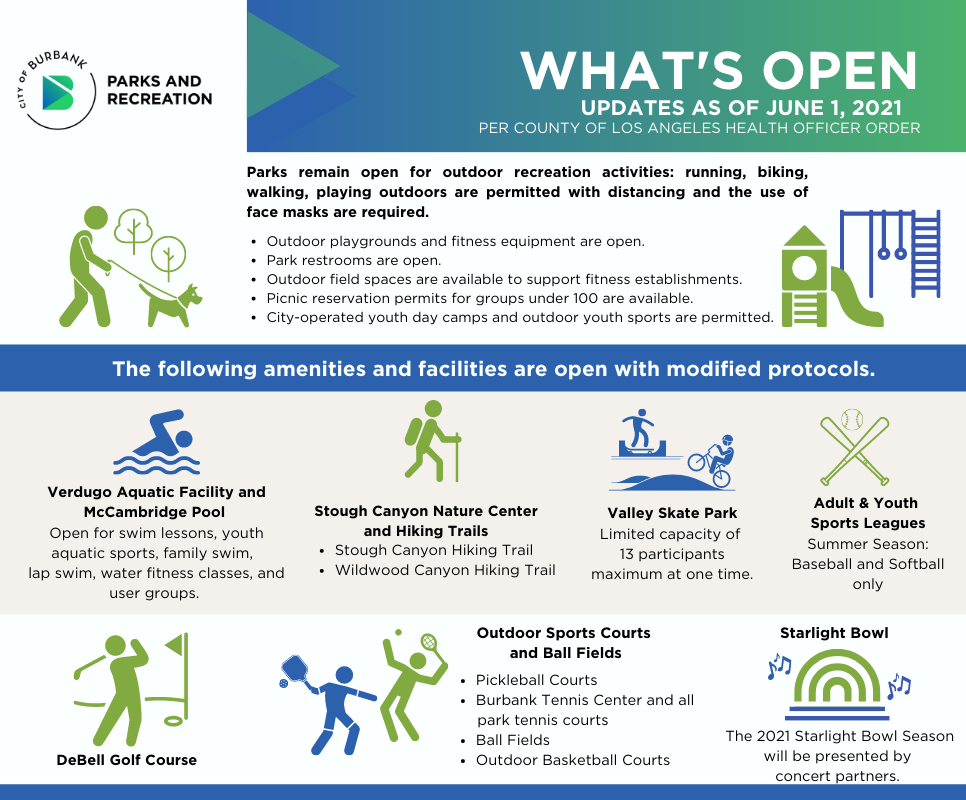 All Parks and Recreation indoor facilities and some outdoor amenities are closed for public use. City programmed activities and permitted uses are authorized.

Closures include, but are not limited to:
Parks and Recreation Administrative Offices*
Betsy Lueke Creative Arts Center
All Recreation Centers (McCambridge Recreation Center, Olive Recreation Center, Ovrom Community Center, Verdugo Recreation Center)
Joslyn Adult Center and Tuttle Adult Center**
Stough Canyon Nature Center
Colony Theater

*Staff can be reached by phone at all facilities during normal business hours or via email at: parksandrecreation@burbankca.gov. View the Parks and Facilties Directory for contact information. Please call the Administrative Offices at (818) 238-5300 for general inquiries.

**Joslyn Adult Center and Tuttle Adult Center - Weekly lunches are still provided by Burbank Nutrition Services. In addition, Virtual Programs and Resources are available.
CITY OF BURBANK FACE COVERING ORDER
The City of Burbank has approved an order authorizing the administrative enforcement of face covering requirements in certain public places. Face coverings, which cover the mouth and nose, shall be worn under the following conditions, as related to Parks and Recreation facilities*:
Persons on Chandler Bikeway while stopped at any intersection whether a pedestrian or cyclist;
Persons on Chandler Bikeway or in a City Park including hiking trails who may be in contact with or walking near or past others who are non-household members; meaning a face covering must be visible and ready to be immediately put on whenever a pedestrian approaches within 10 feet of a non-household member;
Persons in a City Park while engaging in a permitted activity and following the published protocols on wearing of a face covering for the activity.

*Additional information about the use of Face Coverings can be found on the City of Burbank Face Covering Enforcement press release and the City of Burbank Face Covering Order (PDF).
Burbank parks remain open for outdoor recreation; running, biking, walking, playing outdoors are permitted with distancing and the use of masks is required.
Playgrounds, fitness equipment, and ball fields are open.
City-operated youth day camps and outdoor youth sports at parks are permitted.
Park permits are available for fitness classes and activities. In support of fitness facilities that have been ordered to close for indoor operations, but allowed to operate outdoors, the Parks and Recreation Department is issuing permits for use of its ball fields for outdoor fitness classes. Please call (818) 238-5330 or email parksandrecreation@burbankca.gov for more information.
The DeBell Golf Club 18 hole course and Par 3/Disc Golf course and driving range re-opened. Please follow all re-opening protocols while at the site.
Patrons are strongly encouraged to book tee times online in advance.
All guests are required to use a face covering on the property at all times, while interacting with staff members, and at the driving range.
Take-out and outdoor dining are available at the Hilltop Restaurant.
For more information, please contact DeBell Golf Club at (818) 845-0022 or by visiting: debellgolf.com.
Burbank hiking trails, including Wildwood Canyon and Stough Canyon, re-opened. Please plan ahead and adhere to all posted signage. Trail users over two years old will be required to wear face coverings at trailheads, in parking lots, and at destination points along trails. For full safety protocols, visit the Los Angeles County's health and safety protocols (PDF).
TENNIS
All Tennis Courts are open. Tennis courts are located at: Brace Canyon Park, George Izay Park, McCambridge Park (Burbank Tennis Center), Mountain View Park, Verdugo Park.
Instructors may reserve tennis courts by contacting (818) 238-5300. For more information, and to view current tennis court permits, visit: burbankca.gov/parkpermits.
Public play is available at all other times, on a first-come, first-serve basis.
Courtside Caffe located at Burbank Tennis Center re-opened for take-out and delivery. Please visit: burbanktenniscenter.com for more information.

PICKLEBALL
Outdoor Pickleball courts located at Larry L. Maxam Park are open on Monday/Wednesday/Friday mornings. Additionally, Olive Tennis Court has been re-programmed for Pickleball play on Monday/Wednesday/Friday mornings. Pickleball is also available at Burbank Tennis Center. For more information, schedule, and to view all health and safety protocols, please visit: burbankca.gov/pickleball.
Skate parks host non-contact activities in which participants are separated while engaging in the sports.

In accordance with the Los Angeles County Department of Public Health protcol, a maximum of 13 participants are allowed at the park at a time. A waitlist is available.

The following restrictions and protocols are required to ensure compliance with health and safety guidelines:

DO NOT ENTER if you are experiencing symptoms of respiratory illness, including fever or cough.
Practice Social Distancing - Provide distance of at least 6 feet of space at all times during your visit.
Face Coverings Required - Face Coverings are required at all times.
Do Not Share Equipment - Participants must use their skateboard, scooter, bike helmet, pads, etc.
Do Not Gather in Groups - Spectators are not allowed. Participants must not congregate while at the park.
Be Prepared - Participants are encouraged to bring hand sanitizer or disinfecting wipes to wash and sanitize hands often. Water fountain is available only to refill water bottles.
Lap Swimming
Effective Monday 2/20/2021, lap swimming will be limited to two (2) persons per lane and a strict 45-minute maximum swim per Los Angeles County Department of Public Health orders. Lap swim passes are currently suspended for purchase and use.
With guidance from the County of Los Angeles, additional health and safety protocols (PDF) will be in place. Signage will be posted at the entrance and throughout the Verdugo Aquatic Facility (VAF).
Face coverings are required when traveling through common areas of the facility, including to and from the pool.
If you have any questions or concerns, please contact (818) 238-5391.
Aquatic Classes
Class offerings, times and other programming will operate in a reduced or limited capacity to allow for proper physical distancing. As the situation has been ever evolving, the Aquatics Section will do its best to communicate changes in a timely and effective manner.